PS: Text in red talks about the movies Om Shanti Om and Saawariya. Please read at your own risk, might contain spoilers.
!!! DIWALI 2007!!!
Family on phone; Friends real time; Sweets; Lights; Diya; Kandeel; Fireworks; Cards; Games; Fun; Movies; Shopping; Good Food and much more sums up Diwali 2007 for us.
Thanks to the timing as Diwali this year fell over the long weekend. It was absolute fun! I just worked for half a day on Friday. Although the busy season in my profession takes a toll, I really enjoy this holiday season period. It kind of compensates it all...
Friday was decorating the home, Doing Pooja, Good food, meeting with one of my cousin, fireworks, Meeting with our friends and playing cards...
TDP: The Diwali Preparations!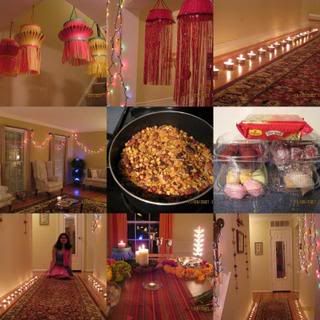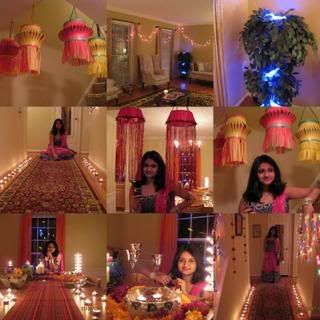 DFW- Diwali FireWorks!!!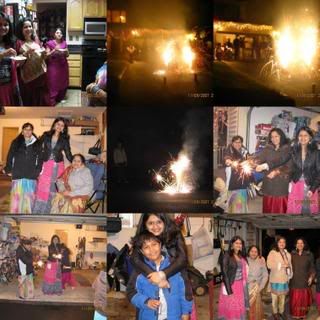 TPP-Teen Patti Party
TPP- Teen Patti Party

Saturday we saw Om Shanti Om, and went to another rocking diwali party at our friends. Had good food, cards, music and games.
OSO-Om Shanti Om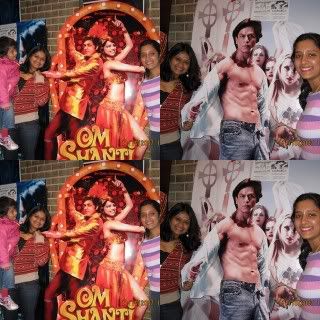 Om Shanti Om was sadly a disappointment for me as I was expecting much more from this movie. I know expectations always let you down, but could not help but expect great work from SRK and Farah Khan...SRK did his bit. He was awesome. Now, after two days, when the movie has sunk in, I think I can give it a 7, although I was expecting it to be a 9 caliber. The movie was basically a spoof on bollywood and a twisted remake of Karz. I liked Deepika in the movie but somehow the editing was not up to the mark. I also could not digest the fact that they found an exactly similar looking girl after 30 years of death of a superstar...I mean I could have digested either of the two facts, but both reincarnation and an exactly similar looking girl was a bit too much for me...The movie just did not gel together very well. But what the hell, Shahrukh khan makes it worth it.
TDP- The Diwali Party!!!
Oh yeah, I had trail once in the game as well... but too sad, no one played in that round...But I started with 30 chips and ended up with 100! Needless to say, I was the winner
Sunday we watched Saawariya, had Thai food, Watched Before Sunrise and Before Sunset!
Saawariya was a surprise for me. I just loved Ranbir Kapoor in the movie. Loved the set. Loved the colors( although it was mostly two colors all over) Loved the character of Ranbir Raj. Sonam is also good, although she did not do much in the movie than just cry and laugh. Also I think it could have been done without Rani Mukherjee...I never thought I would do this, but I will give it a 7. Yeah, same as Om Shanti Om...
As we were leaving for Saawariya, we could not help but capture the Fall Foliage right outside our place. Here is a glimpse:
TFF- The Fall Foliage!




I started Before Sunrise at around 8 and then played Before Sunset back to back...I did not realize when I slept, but then again I got up at around 3, finished the movie and slept again at 4! It was worth it! Great movies and a great concept! The way the actors change overtime, their way of talking, their style, their attitude, everything...moreover the looks. The movie was actually shot after 9 years the first one was made! Cool!
Thankfully Today is a holiday for me! Festivities are over, and now I am getting ready to get back to the routine...yeah yeah laundry and stuff...Oh well...but overall it was good and fun weekend! Now looking forward to Thankgiving!!!!!!!!!!